Liverpool City Council is teaming up with Arriva again to get the NHS Covid-19 vaccination bus back on the city's streets.
As the Government set out plans to end remaining restrictions in England, the race is still on to get vaccines to those who haven't had their jabs.
Last year, the vaccination bus saw more than 10,000 people vaccinated on board, providing a handy service to those who may not otherwise have been jabbed.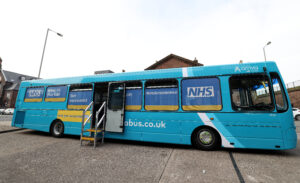 Dr Fiona Lemmens, GP and Chair of NHS Liverpool Clinical Commissioning Group (CCG), speaks about the importance of being vaccinated:
"Currently, seven in every 10 adults being treated in a local hospital for Covid-19 are those who have chosen to remain unvaccinated – so the risk has not gone away."
"Getting vaccinated is still the single, most important thing you can do to protect yourself and your loved ones ."
The vaccine bus will be visiting areas of the city where vaccine up-take has been low.
Some of the locations the bus will be visiting include: Newsham Park, Williamson Square and the Anglican Cathedral.
Diane Haddock, Associate Director of People and Lead Nurse for Occupational Health at Liverpool University Hospitals NHS Foundation Trust (LUHFT) is optimistic about the bus's return.
She said: "We're really excited to be taking the vaccination bus out into local communities over the coming weeks.
"We want to remind people that if it's been four weeks or more since you had Covid-19, you can now come forward for vaccination."
Lifting of restrictions around the UK
On Monday, Liverpool City Council published data for the total number of cases in the city over the last seven days.
There was a total of 2,198 cases of Coronavirus last week, a decrease of 783 on the previous week.
Prime Minister Boris Johnson has alluded to plans to end remaining rules early if the recent decline across the UK  continues.
Current restrictions, including the requirement to isolate following a positive test were due to expire on March 24.
However, during Prime Minister's questions on February 9, Mr. Johnson said: "Provided the current encouraging trends in the data continue, it is my expectation that we will be able to end the last domestic restrictions, including the legal requirement to self-isolate if you test positive- a full month early."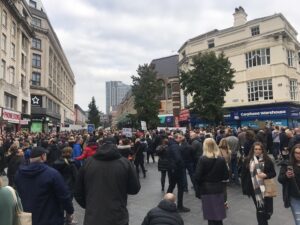 Coronavirus in Liverpool
Matt Ashton, Director of Public Health for Liverpool, said although the Omicron variant is milder it can still be a serious infection.
"You may have heard that Omicron is milder- but it's still causing serious illness and disruption to our lives," he said.
"We know there are many reasons why some people may have chosen not to get their vaccine but we are committed to continuing to work closely with our communities to make sure that the offer is right, and that the risks of not being vaccinated are properly understood."
The Director of Public Health for Liverpool also urged people to make informed choices about what's best for their health. 
He urged those feeling unsure to come attend one of the vaccination bus events and talk through concerns they have.
"A lot of people think that having the virus means they no longer need to get a vaccination or booster dose, but that's simply not the case."
Who can get their vaccine?
First, second and booster jabs of the Covid-19 vaccine will be available for anyone aged 12 or over.
Sessions will be staffed by clinicians from LUHFT, and will run between 10am and 4pm* and no appointment is needed. 
However, opening hours may differ based on vaccine availability.
Locations and dates
The bus will be visiting the following locations between February and March:
February 19 and 20 – Anglican Cathedral, St James Mount, L1 7AZ

February 26 and 27 – Williamson Square, City Centre

March 5 and 6 – Old Bus Terminal, The Orient Hotel, L24 2SX

March 12 and 13 – Newsham Park (by St. Francis of Assisi) L6 7UN
There are also a range of other local drop-in clinics happening across the city. You can find your nearest drop-in clinic here: Liverpool CCG – Covid-19 vaccination clinics and drop-ins
Alternatively, bookable appointments can be made online by visiting: Book or manage a coronavirus (COVID-19) vaccination – NHS (www.nhs.uk)
Or you can arrange an appointment via telephone by calling 119.
If you are eligible for vaccination but have concerns, please speak to your GP or talk to one of the bus vaccination teams.
Featured image by Gareth Jones for NHS Liverpool CCG