Liverpool social enterprise Agent Academy has partnered with global IT firm CGI to create 700 jobs in the North.
Agent Academy exists to help young people fulfil their potential and gain the pivotal skills to break into the creative industry.
They provide training for job roles such as User Experience, PR and Marketing.
Their website explains that Agent Academy exists to "help people to get ahead and fulfil their potential through dynamic, industry-designed, learning solutions".
The company, a sister social enterprise of brand and communications agency Agent, has offices in Liverpool and Greater Manchester, while tech giant CGI is one of the world's leading IT and business consultancy services, with 400 offices worldwide, including branches in Liverpool and Salford.
The two have paired up to create hundreds of jobs, contributing to the government's 'Levelling Up' agenda, with most positions available in the North of England.
Zoe Wallace, Director of Agent Academy, told Merseynewslive about the importance of diversity in the workplace and removing the disadvantages that some minorities face when hunting for jobs.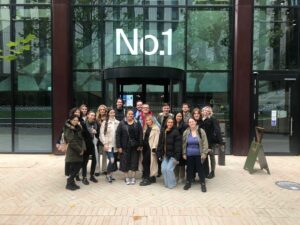 The demand for tech jobs
Zoe said: "This new approach gives CGI the chance to discover future talent, by opening opportunities to young people who wouldn't otherwise know that these careers exist."
She also told Merseynewslive, that in the future they aim to do even more of what they're doing now, training young people to have the skills that employers seek out.
These two vital companies have joined forces due to the demand for tech roles.
Tech Nation found that from June 2019 to June 2021, the demand for tech jobs has risen 42%. 
Agent Academy and Covid-19
During the almost two-year-long fight against Covid-19, the world has become even more reliant on technology, leading to far more jobs in the industry.
Zoe spoke to Merseynewslive about the impact of Covid-19 on Agent Academy and all they do.
She said: "We worked well remotely, but from feedback we know that everyone prefers getting as much face-to-face contact as possible."
Educating young people
Agent Academy predominantly focuses on educating young people, because they value the fact that young people will be the next business directors and leaders.
Zoe added: "We're seeing a five year turn-around, some of these people are directors of companies now."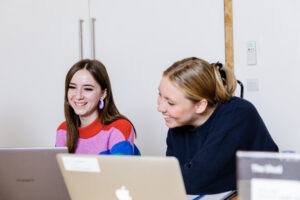 A word from CGI and Agent Academy
On the Agent Academy website, Paul Buxton, Senior Vice President Consulting Services at CGI, said: "At CGI, encouraging the next generation of tech talent is hugely important to us and this is demonstrated by our range of apprenticeship and graduate opportunities. We've also been looking at how we can attract a talented, diverse workforce who may be struggling to secure the opportunities they deserve.
"Therefore, we are proud to be partnering with values-led social enterprises like Agent Academy to deliver on this. We are committed to offering meaningful employment opportunities and are excited to see the unique perspectives of the group and the ideas that they develop whilst with us."
Zoe added: "Many opportunities are hidden to the young people we work with; they may have not had exposure or access to the plethora of careers that exist. We know that there are plenty of bright, talented young people, who employers across the region would love to meet.
"Our role at Agent Academy is to develop this talent and connect them with their future employers, simultaneously supporting businesses to find a new, diverse workforce they wouldn't otherwise have access to." 
Visit the Agent Academy site here.