Around 1.5 million people in the UK are estimated to have an eating disorder, with 25% of those suffering thought to be male identifying. But research shows men are significantly less likely to be diagnosed or seek treatment.
A freedom of information request has revealed that in 2020, of 339 patients treated for an eating disorder by Mersey Care NHS Foundation Trust, only 35 were men.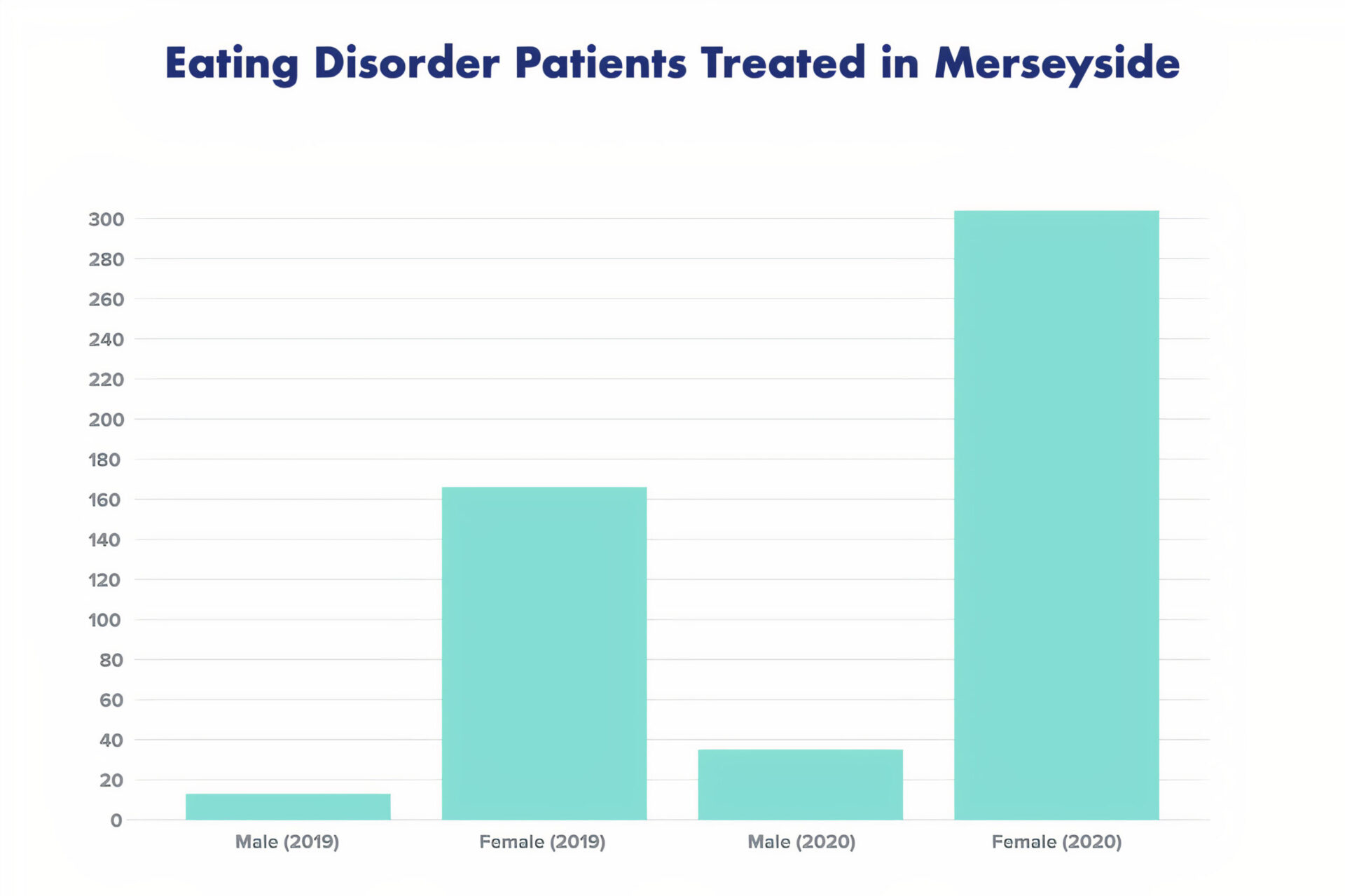 Mersey Care provides mental health services for the North West of England, the West Midlands and Wales, and treats hundreds of people each year who are dealing with various eating disorders.
If a quarter of sufferers are predicted to be male, then the expected number of male patients would have been around 85. But this is not the trend that is seen by Mersey Care, or any treatment providers across the UK.
The data also shows that disordered eating cases have increased during the pandemic, across all genders. Compared to last year's 339 patients, 2019 saw 179 adults seek treatment.
Due to the stigma around eating disorders and men's mental health, it is likely there are more male sufferers going undiagnosed during the pandemic.
Steven, 23, began struggling with binge eating last summer and only recently came to terms with how large the problem was.
Steven said: "I was working from home which was a novel thing for me and what ended up happening was I would only have one meal a day. That meal could be anything up to 4000 or 5000 calories and it would always be a takeaway – deliveroo, ubereats or something."
"I didn't realise how bad it had gotten until one afternoon I added everything up and I'd spent £508 on takeaways just for myself."
Steven had always considered eating disorders to be exclusively anorexia and bulimia. He pictured typical images of young, underweight women, rather than himself and the weight he was gaining.
After some research Steven discovered that binging was a recognised illness and he sought the advice of a GP.
"The doctor was quite dismissive and suggested it could be food addiction", Steven recalled. "I guess that's a similar vein but when I asked for help he said there wasn't much that could be done really."
"It was really unproductive. I felt that he was quite disbelieving. His advice was just to lose weight. I'd love to, mate, but I have a compulsion to get through ten pieces of cake every afternoon."
Feeling unsupported, Steven eventually decided he had to take responsibility for his own treatment and started on a plan of short-term goals such as cooking one meal per week.
Over time he outperformed his aims, and lost most of the additional weight. Now Steven is recovering and feeling much better, but says he won't talk about his disorder in the past tense because it is still a struggle.
Steven said: "It was a horribly dark time. I still don't know what happened and how I ended up there. Sometimes I feel I'm one slip away from falling back into those habits."
"Body issues and dysmorphia ran concurrently with my eating disorder and I think there is a real stigma around that. My doctor proved that. His reaction cast doubt over whether I really had a problem."
By far the most common age group to struggle with eating disorders are young people, aged 18-30. It is impossible to determine a singular cause but there are a lot of potential factors.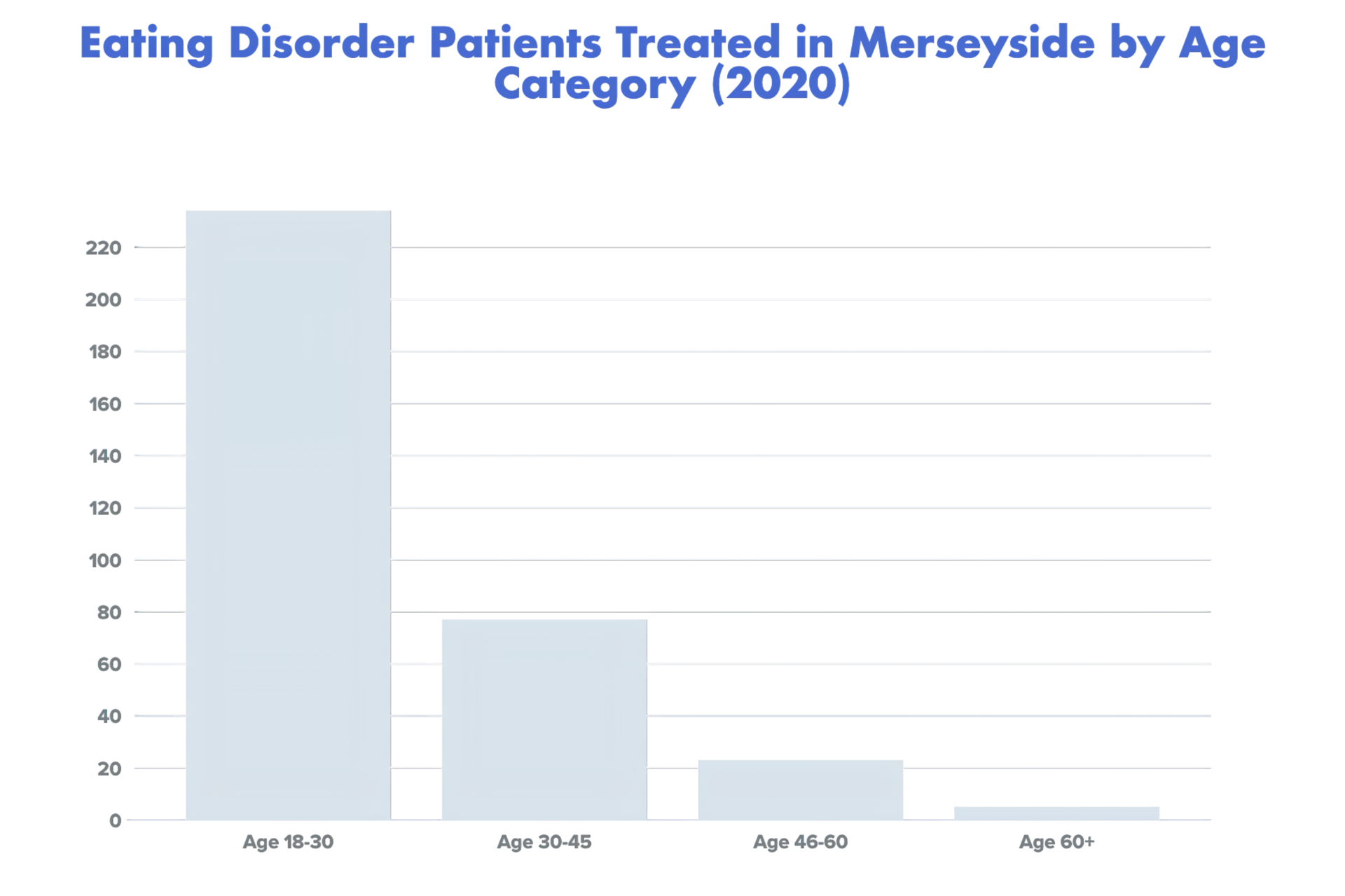 Callum*, 19, has body dysmorphic disorder and struggled with disordered eating as a teenager and still now as an adult.
"I've had problems with my body for as long as I can remember. I was embarrassed to be seen on the playground with other kids even when I was really little. I never realised it was a disorder until high school, but it was a big problem"
Callum has become an obsessive member of different communities on the popular forum site Reddit, that each provide a space for men with body issues.
During what Callum describes as a 'bad episode', he will work out for as many as three hours a day every single day, calorie count, and struggle to sleep due to anxiety.
"This might be controversial", Callum said with some caution, "But I think men have it harder with body expectations. There just isn't much variety in the presentation of male body types."
"I think women mostly worry about losing fat. But for men, there's the element of trying to be muscular as well. I think things like social media, films, and the prevalence of steroids in every field has skewed the reality of what's possible and what's standard."
Being considered 'skinny' is where most of Callum's body issues lie, and he has spent years trying to bulk up.
He said: "There is a stigma, and people expect guys to be invincible. I was told by a girl I liked that I'd be attractive if I wasn't so thin. That's just one example of a comment that sticks, and it's a double standard. Everyone thinks men have thick skin."
The data shows that the number of children struggling with eating disorders is slowly decreasing, at least over the last two years.
But cases like Callum's prove that many mental health issues begin during the early, formative years.
Eating disorders are rarely isolated and usually run in conjunction with other mental illnesses. Both Steven and Callum had struggled with anxiety and depression prior to suffering an eating disorder, and believe them to be connected.
As the UK enters another month of restrictions, the conversation around male mental health has never been more crucial in saving lives.
Although research on male eating disorders is scarce, findings show that there must be men suffering in silence. While men may not present in high numbers for treatment, it is likely that stigma and a lack of social understanding is the ultimate cause.
If you are struggling you can call Beat on 0808 801 067
If you or someone you know are at immediate risk call 999 or The Samaritans at 116 123