The University of Liverpool is outperforming Leeds and Manchester for accepting students with a less privileged background, figures obtained by Mersey News Live reveal.
In their access and participation plan it states that they accept 3.9 students to every one student from a less privileged background.
Less-privileged students are known as 'Quantile five', which refers to BAME students, a student with a disability or a student who comes from a low income area or household.
This balance of Liverpool University students from these backgrounds, compared to those 3.9 students with a better background, is the one of the highest in the Northern area.
The University of Leeds has the lowest as they only accept one student for every 5.5 student with a more privileged background.
The University of Manchester falls in the middle with 5.2 privileged students to every one students from Quantile 5.
Other Universities in the North do not have any up to date data to compare.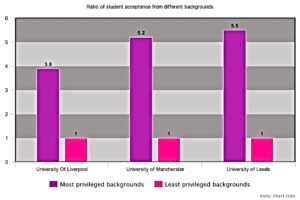 Why does the University of  Liverpool have the best ratings for disadvantaged students?
The report doesn't make it clear, however, it might be due to the volume of Liverpool residents who stay within the city for their studies.
The majority of Liverpool based on postcode counts as a low income area so when Liverpool students stay in their city for university, they are having an effect on the access data.
Liverpool resident and student Hannah Devine stayed in Liverpool for university and used an access scheme to join the University of Liverpool.
She took part in Liverpool Scholars while at college, which helped to lower her grade boundaries for the entry requirements and get a bursary whilst at uni.
She said: "The importance of these schemes is huge: they help instil confidence and drive in students who may have initially doubted themselves and their ability to get into university.
"Financially it is beneficial, but the amount of other practical support they provide is insurmountable."
She also agreed however that even Liverpool can be doing more for students who may need extra help to get into a Russell Group.
"I think they need to continue to offer support and reassurance, whether that is through virtual workshops or one-to-one conversations.
"Especially during COVID, when there's a lot of anxiety about joining university. I think universities need to recognise the potential strain and concern that this may elicit both in current and prospective students."
A University of Manchester student said his experience with Manchester's access programmes was a great one.
Ben Hall, who is the first person in his family to attend university, said not knowing what it was like beforehand was daunting but Manchester's access plans did a lot to help.
He also said: "I think that they need to make more schemes like this more accessible and widely known."
A Leeds student Stan Hambidge said: "I joined because of my background and financial situation and got put on one of the scholarships for being a young carer.
"They offer a great deal of schemes for access but I didn't see much involvement from it."
The statistics come from baseline data from 2017-18 intake to university and their plan covers five years from 2020-25.
When contacting universities about their success rates in reaching their 2020/21 targets for a more diverse intake only the University of Manchester responded.
A spokesperson from the university said: "Our internal data suggests that we have met our 2020/21 milestone for reducing the ratio between Quantile 5 and Quantile 1 students entering university.
"Our target for 2020/21 is 5:1 and we have achieved a ratio of 4.6:1."
This data sees a vast improvement on the number of less privileged students compared to their last intake.
The University of Liverpool and Leeds did not release their data from their 2020/21 intake.