Gareth Gates is set to star in a new Pantomime coming to the Liverpool waterfront next month. 
Gates will star as the "Handsome Prince" in Shone Productions' Sleeping Beauty – The Pantomime of Your Dreams. 
The Pantomime will run from Saturday 29 May until Saturday 5 June at The Auditorium at the M&S Bank Arena.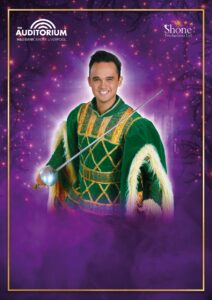 The cast also includes Peppa Pig's Emma Grace Arends and comedy favourite Bippo the Clown. 
The show will feature "a live band, beautiful scenery and costumes, amazing special effects, and lots and lots of laughs". 
Gates, who rose to fame when he was runner-up of ITV talent show Pop Idol in 2002 spoke of his desire to perform again in front of Liverpool audiences. 
Gates said: "It's always a pleasure to perform for Liverpool audiences. 
"People in the city really appreciate live theatre and they know how to have a good time. 
"The last 12 months have been very difficult for everyone in the entertainment business, performers and audiences alike. 
"I can promise this brilliant new production of Sleeping Beauty will be a real treat for all the family". 
The Pantomime will be staged in a Covid-safe space. 
This includes reduced seating capacity to allow social distancing, a one-way system around the venue, hand sanitiser stations and deep cleaning between each performance. 
Pantomime producer James Shone said: "We all deserve some fun and laughter in our lives. 
"What better way to celebrate the easing of Covid restrictions than with a magical panto?" 
Listings for the Pantomime are as follows:  
Saturday 29 May: 3pm and 7pm 
Sunday 30 May: 1pm and 5pm 
Monday 31 May: 3pm and 7pm 
Tuesday 1 June: 3pm and 7pm 
Wednesday 2 June: 3pm and 7pm 
Thursday 3 June: 3pm and 7pm 
Friday 4 June: 3pm and 7pm 
Saturday 5 June: 11am 
Ticket information can be found at: https://www.mandsbankarena.com/whats-on/sleeping-beauty/ 
 Featured picture credit: Shone Productions Press Release