Local organisation, Running Head First, are hosting a community cleanup event to raise money for their mental health services.
The two-day event will take place on Saturday March 27 and Sunday March 28 around Wirral.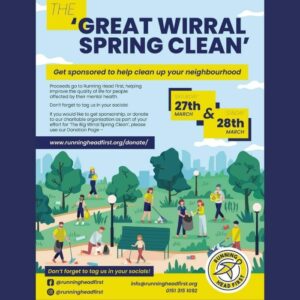 Residents are asked to donate through the organisation's donation page and spend an hour litter picking around any area of Wirral.
Running Head First are a not for profit organisation that uses walking, running and physical activity to improve people's mental health and wellbeing.
Director, Chris Redmond, recognised during his own experiences with mental health in 2015 that exercise as an aid to recovery was not widely available.
He set up Running Head First in 2019 with two colleagues, Lee Plant and Ashley Cox, to offer this support to the local community and the North West of England.
Chris said: "If we can get people active and outdoors, get the Wirral looking better and raise some money in the process then everyone's a winner.
"The only thing we encourage is that you are cautious when you are litter picking. Do not pick up anything dangerous or sharp and dispose of your litter in a safe place."
Running Head First plan to open their first gym facility in Wallasey in September. It is believed to be the Wirral's first to specialise in mental health services.
The organisation already offers inclusive social groups, interventions and treatment pathways. Activity sessions are available for children to support their physical and mental wellbeing at an early age.
Chris added: "Any form of exercise is going to help you, never mind at a time when things are not quite as normal as they should be.
"The social aspect of exercise has a massive impact, never mind the physiological effects that exercise has on your physical and mental health.
"We'll be helping everybody from children with SEN or underprivileged backgrounds, people living in poverty and adults, helping them with their  mental health through physical activity sessions."
To sign up tag @runningheadfirst on Instagram or Facebook or contact Chris on runningheadfirst.org/contact-us/. Further information about the event will be sent.