Friends Of Crosby Beach are eagerly awaiting the passing of the Sewage (Inland Waters) Bill which will clean up our beaches and prevent littering in the sea. 
The group are a part of the wider organization, Friends of Sefton Coast, whose aim is to celebrate the natural and cultural heritage of the Sefton Coast.
The Sewage (Inland Waters) Bill is described as a bill to place a duty of care on water companies to ensure that untreated sewage is not discharged into rivers and other inland waters. 
The bill is currently awaiting its second reading in the House of Commons.
Barbara Ramsbottom, chairperson of the group said: "Our group is eagerly awaiting for the bill to be passed.
"We hope that preventing water companies from discharging untreated sewage via CSO's into rivers and other inland waters will help any coastal community who have to battle with such pollution on their local beaches." 
CSO's are Combined Sewer Overflows, which means the pipe in which all rainwater runoff, domestic waste and industrial wastewater is directed to a nearby sewage water treatment plant where it will be treated before discharged.
The design of these CSO's means that in times of heavy rainfall or snow the levels of waste in these pipes becomes unmanageable and the treatment plant cannot accept it all, so the excess levels are discharged to nearby streams, rivers or other water bodies.
This means that all the human waste, industrial waste and debris is left untreated when it is being dumped in water bodies with unknown long-term effects for the local communities and marine life.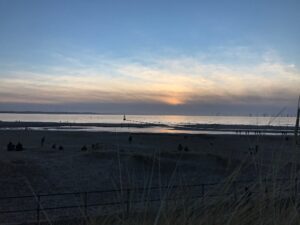 Barbara Ramsbottom backed up the claims that these overflows are damaging the local environment on Crosby beach.
She said that her and the litter picking group Friends Of Crosby Beach have picked up tampon applicators, condoms and wet wipes amongst other sewage-related things. 
Phillip Dunne MP for Ludlow, the sponsor of the bill said on his website: "Water companies are licensed to spill. This is ruining habitats and risks endangering public health. It has got to stop." 
In the North West, the Environment Agency estimates that these overflows lead to 30% of the sea pollution in the area so companies need to be held to account. 
Friends of Crosby Beach are still meeting in socially distanced groups to collect rubbish along Crosby beach, and you can still volunteer to join them.
Images courtesy of Isabella Kemp