International Day Of Women And Girls In Science 2021 is championing the women at the forefront of the fight against Covid-19. 
February 11th is the sixth year of the international assembly for the event, held at the United Nations Headquarters virtually. 
The assembly's theme is "Beyond the Borders: Equality in science for society" which has a focus to enhance sustainable development programmes.
The United Nations assembly will also approach the discussion of "How to drive innovative economy in the post-Covid era".
Science has so much to do with how society will move past Covid-19 and now more than ever it deserves to be celebrated as do the women and girls involved. 
It is hard to ignore that history has repeatedly favoured stories of men achieving wonders for science whilst women are rarely mentioned. It even has a name: 'The Matilda Effect.'
'The Matilda Effect' coined by Margaret W. Rossiter, a science historian, refers to events where a woman's work has been handed over to a man for him to take credit for. 
Chloe Gray wrote in Stylist magazine that the only female scientist she could name was Marie Curie and she knew Curie's husband helped her with her work. But when naming male scientists she could easily name more. She knew nothing of whether their wives helped them or not, because as a man their work is seen only as their own, no help involved. 
Thankfully the narrative is changing as more young women and girls are signing up for science degrees, joining science clubs and generally no longer believing that science is 'just for boys'.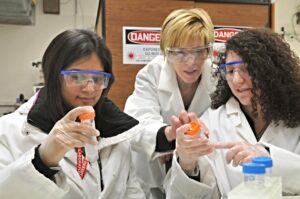 Liverpool John Moores University has many societies for science and one group, the LJMU Biomedical Science Society is working to change the narrative of hidden women.
Director of the Biomedical Science Society, Keji, believes in building an awareness of women in science within the group as she feels the representation is important. 
"I remember being in secondary school and all my science teachers were males, so I found it hard to relate to them and although the sciences were my favourite subjects, I never thought about a career in it." 
"From a young age I was always taught there is nothing that can stop me from achieving anything I put my mind to, so I have never let the thought of gender inequality in the workplace hinder me." 
Another member of the society, Leah said: "Women in science are role models for young people who aspire to have a career in the industry."
She had a different experience as a child however: "Growing up I never saw myself in the science industry, from a science teacher questioning my ability in high school, but I am now excelling on a Biomedical Science degree." 
Both of the girls praised Liverpool as a city for science and talked of how the area is an 'amazing place for female scientists to thrive'.
Leah said: "Liverpool is a diverse city for female scientists, due to the number of major companies in the area from AstraZeneca to the Liverpool University Hospitals NHS Foundation Trust." 
Director Keji said to honour the day she would be spending the time to talk to as many people she can about their personal experiences in the industry and that the Biomedical Science Society would be using social media to promote the discussion all day.