We all know that the cost of a modern-day wedding can be overwhelming for most, however have you ever considered how many hours you would have to work to attend a wedding in Liverpool?
Figures provided by Missguided from the Office of National Statistics, Numbeo and Survey Monkey have revealed Liverpool as coming 7th on a list of the most expensive cities to attend a wedding in the UK.
The research revealed that it would take the equivalent of 40 hours work, based on the average national hourly wage in the UK, for a guest to attend a wedding in Liverpool.
This means that it costs guests on average an eyewatering £621.33. This figure is based on the average costs for travel, hotel stays, outfits and the average cost of an alcoholic beverage in the city.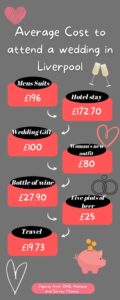 Asha Hayes, weddings and events manager at The Royal Liver Building, said: "For a wedding I think it is justifiable because a lot of weddings you have got two years' worth of notice from the engagement to the actual wedding.
"A lot of people in Liverpool care about the way they are perceived in terms of looks, even if you go on a night out in Liverpool you could spend £200 on a dress, £150 on heels and get your hair and your makeup done.
"Because of Covid, a lot of people have been stuck in their house, they haven't been able to get dressed up or have a bevvie with their friends so when people see a wedding, they will spend that money because it's their friends and family getting married and it's a day out for them."
What may be surprising is that Liverpool follows the top three most expensive places to attend a wedding, two of which are in the North West: Cheshire East and Manchester. The most expensive to attend was Cheshire East costing £881.83 to attend a wedding in the region and Manchester costing £737.43.
Head of Brand at Missguided, Vicky James, said: "It's hard to RSVP "no" to a wedding, but with it costing the same as a week's salary to attend one, this definitely puts things into perspective.
"The pandemic has impacted all areas of our lives, with weddings and couples having to rebook and cancel, average prices have soared."
This might make you think twice before sending your RSVP back!
Wirral bride-to-be starts petition to save blaze-hit venue's marquees