As one of our Merseynewslive news teams sign off and our student journalists get ready to graduate this summer, we look back at the past year in our newsroom.
Amongst looming deadlines and frantic job hunting, it can be easy to forget just how far we've come during our time at LJMU.
The last three years haven't always been easy.
An unpredicted global pandemic saw the normal busy newsrooms make way for Zoom lectures and online exams for the most part of our university experience.
Despite the challenges we have faced, the Merseynewslive team have had the incredible opportunity to continue to tell important stories from across the region.
We would like to look back at all our favourite stories from the year that have celebrated our diverse region.
With the finish line in sight, we also want to look ahead to the future, highlighting our aspirations, ambitions, and plans for the future.
And we'd like to thank you, our Merseynewslive readers, for sticking with us and leaving your comments and opinions during a challenging but interesting year.
What was our favourite work from the past year?
Sophie Moore says her favourite work was 'memorial matches for club that brings grieving families together.'
She said: "I thought this story was emotive and it was an important message to get across.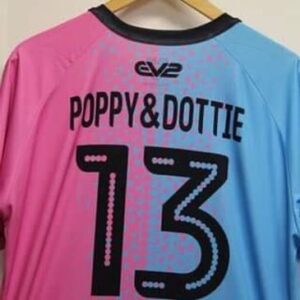 "The interview was conducted during Baby Loss Awareness Week, so I felt it was important to show other people in the region that there is support available."
Beth Lindop said: "Over the course of the year, I've been lucky enough to chat with some incredible people with fascinating stories to tell.
"My favourite feature that I've worked on looked at 17-year-old Olivia Rushton, who took part in the Children in Need Rickshaw Challenge to raise money for Claire House Children's Hospice.
"Claire House do some truly amazing work, supporting families such as Olivia's, whose younger sister Jessica suffers from a life-limiting chromosomal disorder.
"To see how much Olivia wanted to give back to Claire House, as well as hearing about her heart warming bond with Jessica, was massively inspirational."
Oli Johnson's favourite memory from the previous year was when he talked to a local comedian.
He said: "I interviewed a local comedian about an open mic night, and this was the best interview I managed to get and I am really proud with the story that I produced."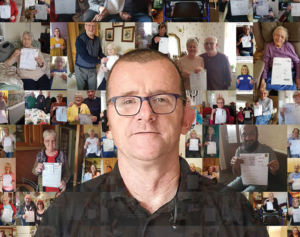 Sophia Smith said her favourite piece was the article about 'Britain's favourite plumber.'
"He is a man from Liverpool who helps thousands of families across the nation as he installs good will (pun intended.)
"It was my favourite because I loved the story and it did really well on social media."
The run-up to Christmas saw lots of events, such as Liverpool's famous Santa Dash.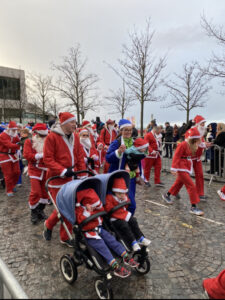 Zoe Wheeler reported the event: "My favourite story that I worked on this year was the Santa Dash. It was really great being given a press pass and working behind the scenes.
" I enjoyed having the opportunity to interview Jamie Carragher with fellow reporter Tess Penman."
So as we say our final farewell, what are our plans for the future?
Ailis Finn Lobby is planning for a more exciting year: "My plans for the future are to do a ski season next year and then to hopefully do a Masters in London after that."
Amna Akram said her plan for the future is to apply for more internships.
"I just plan to apply for internships after I finish, which will get me more experience."
Ella Williams said: "I am hoping to get on to the Journalism MA course at LJMU, if I get the right grades when I finish his year. After that I will hopefully just keep getting more experience in the industry."
Gabby Bergonzi is also hoping to follow in Ella's footsteps and apply for a Masters course at LJMU.
Harry Hughes said: "For the future, I plan to keep writing for various websites, I don't have a solid plan at the minute but we will see where I go from there."
For now, we are handing over to our MA news team who will be following all the big stories across Merseyside and beyond.
We hope you have enjoyed reading Merseynewslive!

Featured image © MerseyNewsLive