LJMU students had the opportunity to help with the new Batman movie, which is being showcased in UK cinemas.
Katie Goody, a graduate of Liverpool John Moores University, was one of the students who got the chance to work on one of the Batman sets.
Katie worked as a Locations Marshall on set – her duties were to help keep the set tidy and help out where needed.
Liverpool was among the places chosen as a location for Gotham City and the filming was carried out in October 2020. The Royal Liver Building's clock tower, St George's Hall, and Anfield Cemetery are among the landmarks spotted in the latest big screening.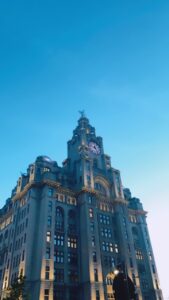 Katie got the opportunity through PULSS, a part of the university which helps find jobs and work opportunities for members of Liverpool Screen School.
Film graduate Katie believed the experience was inspirational. She said:
"I absolutely have LJMU to thank for the opportunity, it was something I never even would have dreamed of being able to do."
Katie added: "I was also so lucky that the team I was working with on the set were all so lovely and helpful. It really showed me that working on a film or TV set is what I want to do for my career!"
Katie graduated in Film Studies and Creative Writing last year. After she watched the new movie, she said: "I absolutely loved it, and that's not biased at all!"
The film, directed by Matt Reeves, was released this month. With a running time of just under three hours, it is the third-longest film ever made based on a comic book.
Katie thought the film was a great success: "The cinematography was incredible and the score was so powerful."
"I really love the direction that Matt Reeves is taking Robert's Batman. I will absolutely be back to see it again in the cinema before it's taken out."
Cinemas around Merseyside showing Batman:
Odeon Liverpool One
Cineworld Cinema – Speke
Picturehouse – Picturehouse at FACT, Liverpool
Odeon Bromborough
Have you watched the new Batman? Let us know what you thought of the film by tweeting us at twitter.com/merseynewslive