NHS activists, trade union officials and members of the public marched through the streets of Liverpool to protest against the Health and Care Bill. 
A National Day of Action on Saturday saw Liverpool city centre emblazoned with banners, impassioned speeches and a generous turn-out from the public.  
Key speakers gathered at the steps of St Luke's Bombed Church before protestors marched down Church Street to Derby Square. 
The demonstration was held as a result of the Health and Care Bill which campaigners claim is a slippery-slope towards privatisation for the NHS – and will create a two-tier society.
The threat of privatisation
Felicity Dowling, Left Unity Principal speaker, told MerseyNewsLive that the Health and Care Bill will cut the NHS into 42 separate areas – bringing a swathe of private interests with it. 
"We will have a situation where we are paying people to cut our services", she said. 
But the Trade Unionist who spearheaded the campaign to save Liverpool's Women's Hospital also talked about the failure of many existing private companies. 
She said after one local private midwife company went bust, the women's hospital became overwhelmed and inundated with emergency cases, including home births, in a matter of 24 hours. 
"There's no stability – we need a publicly-funded, properly-funded, publicly-delivered NHS," Ms Dowling added. 
A protestor, Colin Lach, said he joined the march to make people aware of the Bill. 
"They're trying to take the NHS off us and make us pay. And if you can't pay, you've basically got no chance of survival. 
"Certain people will get treatment, certain people will not. And the consequences will be devastating", Mr Lach added.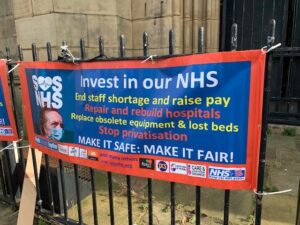 Americanised health care system
However, activists were also keen to stress staff shortages and stagnant wages are also crippling the NHS.
Veteran health care activist and Unison National Executive, Karen Reissman, highlighted how a decade of austerity measures and Covid-19 meant there are now 100,000 unfilled vacancies across the NHS – the equivalent to under 10% of staff being permanently on strike.
Ms Reissman also said the Health and Care Bill is a one-way ticket to an Americanised health care system. 
"[The Bill is] going to make privatisation easier for trusts and is going to give private companies seats on the decision-making board. 
"We know private healthcare is about making money, not about making people well. 
"The most expensive health service that costs more than double than what we pay per person in Britain is the American health service", Ms Reissman said. 
She said people in poverty in the US typically cannot afford healthcare, medication or operations that they need to survive. 
Staff shortages
Laura Hother, a registered nurse and representative of Nurses United, illuminated the feeling on the ground for NHS staff. 
She said four of her colleagues have left the NHS in the last six months since she started and that staff shortages are spiralling. 
Nurses United are demanding a 15% pay rise to prevent more nurses from leaving the workforce. 
"No, that's not too much. That is just enough", Ms Hother said, arguing that it would mitigate against the 20% cut to wages that has taken place over the course of 12 years. 
"People are burnt out. People are tired", Ms Hother added.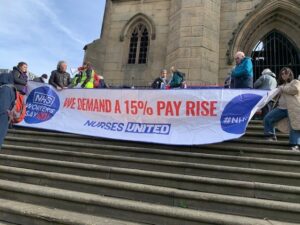 Where is the Bill now?
The controversial Bill has been passed by Parliament but is due to go through the House of Lords in its report stage later today. 
But activists won't give up trying to prevent the nation's beloved health care service from being clawed into the hands of private companies. 
As Ms Dowling said: "We're on the march. We're on the war path. We will try to save the NHS."