Liverpool's Christmas markets have returned this year with around 40 stalls, packed full of festive food, drinks and souvenirs.
With the holidays rapidly approaching, Merseynewslive takes a look at the best things to do at the markets to get you into the Christmas spirit.
Take a ride on the Ferris Wheel
The Ferris Wheel offers stunning views of the city's skyline and many landmarks like St. Georges Hall, Lime Street Station, Radio City Tower and the surrounding area.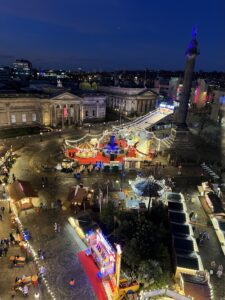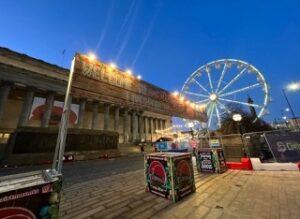 Windmill Bar and Aprés Ski Hut
There are several stands serving alcohol and refreshments across the markets, but the Windmill and Aprés Ski bars really capture the Christmas experience.
The bars offer small comfortable wooden huts and benches that accommodate groups of people to enjoy draught lager and cider, cocktails and a selection of hot drinks.
Situated in the middle of the markets, the two large bars are in the centre of the atmosphere and provide the best experience to enjoy a drink with friends.

Sweets and desserts
The markets boast an array of sweet snacks to feast on as you make your way around the markets. The Pick & Mix stall allows you to fill a bag full of a combination of your favourite sweets.
Christmas wouldn't be complete without a variety of festive desserts. With Crepes, Waffles, Pancakes, Cookie Dough and Churros the choice is endless.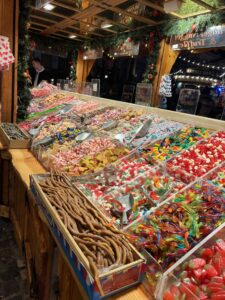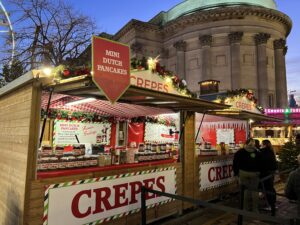 The Yorkshire Pudding Wrap
One of the most popular foods at any markets are the famous Yorkshire Pudding Wraps. Be sure to get there early as you will usually find a good queue of hungry customers eagerly waiting.
With a choice of turkey, pork and beef combined with roast potatoes, stuffing and vegetables finished with gravy tucked inside a large Yorkshire pudding. It is arguably the most popular and delicious treat on offer across the North West.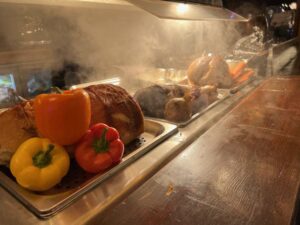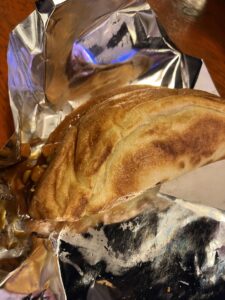 The German Swing Grill
Another seasonal favourite is the German Swing Grill. With popular items like the Bratwurst and Currywurst they are perfect for a quick snack.
With several other types of sausages on the menu, they also offer a Vegan option and a variety of sauce and spices all barbequed on a large grill.
They are not only extremely favourable but they are a quick snack to be enjoyed while walking around the markets.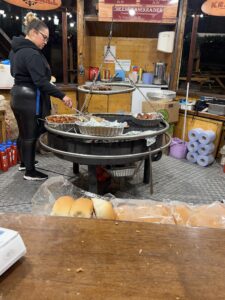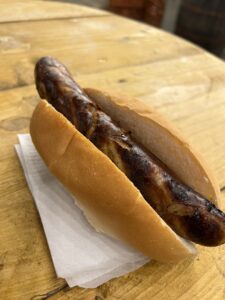 The Christmas Markets are situated at St. Georges Hall and last until December 23.
The Christmas markets are back and reviving small businesses