Four Liverpool restaurants have been shortlisted in the inaugural Deliveroo Restaurant Awards – and the people of Liverpool can now cast their vote for the winner.
 Crust, Grilla, Caribou Poutine and Fat Hippo have been selected out of more than 600 restaurants.
Fat Hippo, which opened on Bold Street in May, is up for the 'Restaurant of the Year' award.
Fat Hippo is a group of independent burger restaurants, based in locations across  the North and Midlands.
The group has restaurants in Newcastle, Jesmond, Durham, Nottingham, Leeds and Liverpool, concessions in Sheffield, Manchester and Edinburgh and a Fleet van travelling around the UK.
Their well-known motto is "Good food. Messy Fingers. Juicy Burgers".
Crust has high hopes for the 'best pizza' award. All Crust's pizzas are served up fresh from their wood-fired ovens, topped with ingredients from Italian suppliers.
You'll find Crust restaurants on Liverpool's Bold Street and in Woolton Village.
Grilla, which has restaurants on Hardman Street in Liverpool City Centre and on Allerton Road, has been nominated in the 'Best Middle Eastern Restaurant' category.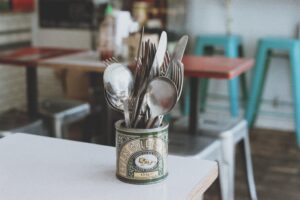 @florenciaviadana (unsplash image)
Caribou Poutine, on Slater Street is under the 'Best Meals Under £10' category.
Owners Michael and Lizzie, who were born and raised in Liverpool, met while living in Mont Tremblant in eastern Canada in 2013 when they were training as ski instructors.
They set up 'Caribou Poutine' while still students in Birmingham.
After two years of street trading they decided to bring the business to Liverpool, and the restaurant in Slater Street became the first permanent poutine restaurant in the UK.
LAST DAY TO VOTE! 🗳

Please vote for us in the @deliveroo awards! 🙏 Thank you for your support to all our lovely customers. You are the best! ❤

Find the link to vote in our bio. https://t.co/lupA2jSQfQ

— CARIBOU POUTINE (@caribou_poutine) September 27, 2021
The restaurants have been gaining good reviews on Trip Advisor.
One reviewer Jodie Skelmersdale, from Liverpool, said: "We visited Fat Hippo in June when it first opened, it was really busy and with it being new, the lady who was in charge was lovely
"Nothing was too much trouble. The food was worth the wait, it was lovely, my kids loved it too, will be visiting again".
Another Trip advisor reviewer, Helen, also from Liverpool said: "The staff are amazing, attentive without being intrusive. Authentic and always have a smile on their face.
"We have eaten here numerous times & the food has always been superb – our favourites: mushroom bruschetta, seafood linguine & lasagne."
Voting will close at 23:59 on Monday October 18.
Head over to Deliveroo's Instagram page @deliveroo on November 15, when a panel of surprise celebrity judges will announce who will be taking home this year's awards and will name the winner of the Restaurant of the Year award.
Elisabeth Gregor, Communications and Social Media assistant for Deliveroo, said: "The shortlist of restaurants in with a chance of victory was chosen after the first round of public voting which saw more than 50,000 people across the UK cast their vote, resulting in more than 600 hopefuls being reduced to 132 finalists.
"Food lovers in Liverpool have voted in their numbers for local favourites to be selected as finalists in Deliveroo's inaugural Restaurant Awards."
She said London, then Manchester have the most shortlisted awards so far, with Birmingham and Brighton following closely behind.