A stage show about Judy Garland and Liza Minnelli will be one of the first UK tours outside lockdown.
The Judy and Liza show will tour the country in May and June to mark its 10th anniversary. This will include a 4th June performance at the Floral Pavilion in the Wirral's New Brighton.
The tour plans match the government's roadmap for easing lockdown restrictions. Social distancing and other covid safety measures will still be in place to ensure audience safety.
'Bill Elms' Productions and 'On Song' Productions produced Judy and Liza. West End actress Emma Dears wrote and created the show whilst also playing Liza Minnelli whilst Francis Goodhand is the musical director.
Bill Elms said: "We are thrilled to finally announce the 10th Anniversary UK tour of Judy and Liza."
"It is going to be a very special tour, as for many of the theatres, this will be their first live show in a year, as we come out of lockdown."
"We can promise audiences a safe and very memorable experience the joy of live entertainment through this captivating show."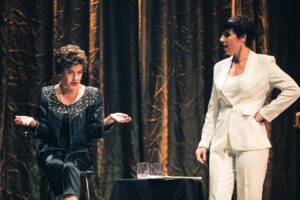 The show is based on the lives of mother and daughter Garland and Minnelli, two of Hollywood's biggest names.
Helen Sheals plays Judy Garland alongside Dears' Minnelli to portray the story of their reunion in 1964. Featuring a large number of well-known and popular songs, the show aims to take the audience on an emotional rollercoaster.
Emma Dears said: "It is with pure excitement that we can take Judy and Liza's emotional and iconic story on the road."
"As performers we crave being in front of a live audience – seeing, hearing and feeling their reactions. It gets no better than that."
"The show is full of love, heartache and passion, and Helen and I have worked tirelessly to make sure we get every tiny detail just right."
"Join us for an evening with the mother and daughter who really did put the 'show' back in showbiz."
To find out more visit www.judyandliza.co.uk