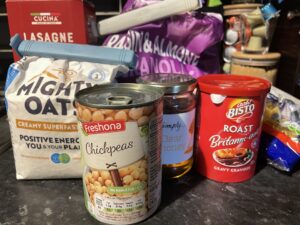 Wirral foodbank has seen a significant increase in the number of people needing their support.
According to data from the charity Trussell Trust, 7,420 emergency food parcels were given out between April and September this year on the Wirral.
Over 1.5m food parcels were distributed in the UK over this period which is a 16% increase from the same timeframe in 2022. This is the most parcels the network has ever given out by this point in the year.
READ MORE: New lease of life for Hilbre Island's abandoned buildings
Richard Roberts, General Manager for Wirral Foodbank told MerseyNewsLive more about how people can help – listen here:
Foodbanks on the Wirral have provided almost 2,000 more packages than the previous year, and over 2,500 parcels were for children.
Richard Roberts said: "I think the biggest issue is the cost-of-living crisis. People are just finding it so difficult to manage and it's not that we've seen an increase in the frequency of people coming to the food bank.
"It's still below two vouchers in a six-month period, were seeing new people coming who have not been before."
READ MORE: Bradbury Fields work hard to spread awareness for those with visual impairments
Around 65% of parcels provided by the Trussell Trust food banks between were for families. Richard told MerseyNewsLive that he's seeing more single people coming for help, followed by young families.
"This is not right"
Emma Revie, Chief Executive for the Trussell Trust, said: "These statistics are extremely alarming.
"An increasing number of children are growing up in families facing hunger, forced to turn to foodbanks to survive.
"A generation is growing up believing that it's normal to see a food bank in every community. This is not right."
Richard Roberts told MerseyNewsLive why he believes why there has been an increase in need for foodbanks – listen here:
Wirral Foodbank hope that there is not an increase over the winter months but suspects there will be. However, Richard added that they have seen a change in recent weeks – listen here:
Sources of help and advice:
In 2018, a project called Wirral Food Bank Plus was established, which seeks to address the underlying reasons why people need support from foodbanks and is provided by Citizens Advice Wirral.
Also, there is a BanktheFood app, which is free to download. It will send a 'ping' when you are at your local supermarket telling you what your community food bank needs, so you can put it in your basket to donate.
Featured photo (c) Photo of food by Abigail Ford