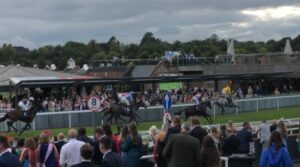 The Jockey Club have pledged to help remove the financial barriers blocking young people from having access to horse riding and watching the sport.
The Jockey Club, which owns 15 of the UK's racecourses including Aintree and Haydock, found 59% of 12 to 18 year olds would like to interact with horses more although 58% believed it would be too costly to pay for sessions.
Grant Rowley, the Communications Lead at the Jockey Club, said they run free horse racing sessions for under 17s to encourage them to take an interest in the industry.
Another initiative they have launched is bringing the horse into the community, where the Jockey Club work with schools and teach them about the variety of careers they can have.
Grant said: "We as a sport try to be as accessible as possible, we try to be as opening and welcoming as possible."
Partnered with Invade they offer student packages where you can get food, tickets and transport all included for a discounted price, which has been branded 'a success' after between four or five thousand students attended the last autumn's fixtures.
Featured image (c) Sam Walker