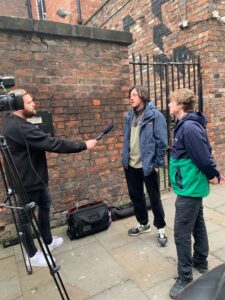 Musicians and music lovers have expressed shock after one of Liverpool's most popular venues shut down.
Liverpool Arts Club, on Seel Street, had been a staple of the city's music scene for decades. However, since the turn of the year the building's doors have remained shut, and the stages empty.
As well as hosting regular club nights, Arts Club staged performances by famed artists such as John Newman, Central Cee, and Frank Carter and the Rattlesnakes. It also provided an essential springboard for local acts to gain exposure.
The venue has been known by several names through the years, with some likely to recall enjoyable nights at The Masque or The Barfly.
Since 2016, Academy Music Group had been custodians of the venue but have now reportedly ceased their involvement.
'It was a good central hub for everyone to come'
Updates have not been forthcoming, and with all scheduled events either being cancelled or moved elsewhere, and digital links to webpages being redirected, Arts Club now faces a period of uncertainty.
Evan Tate, who's indie two-piece Bandit was the last to play the iconic Loft Stage, was sad to see the shutters come down: "It was a good central hub for everyone to come… and you saw these big bands and the smaller bands… it's very important and it's a shame to see venues left right and centre going unfortunately."
Anton Eager, of rock band The Cheap Thrills, summarised what set Arts Club apart from other locations.
He said: "The special thing about this was that it was a unique setting, but also because of the size it was good quality sound."
Academy Music Group has been approached for comment.
Featured image (c) Mathew Markey