Construction of the £11.5m flood wall along the promenade of West Kirby beach and Marine Lake is stirring up controversial opinions among both locals and tourists'.
Following disastrous flooding in 2013 and 2014 in the Wirral, plans were drawn up to prevent and reduce future damages, with the West Kirby Flood Alleviation Scheme's plan to build a flood wall granted approval in November 2020.
The intention behind the scheme is to stop scenes like this from repeating during any future storm surges:
The wall will be 1.2m in height, doubles as a bench, and has encouraged a mix of opinions on its construction since its announcement, with many fearing it's placement with ruin the promenade and discourage visitors.
Phillip Gosling, Wirral local, expressed concerns about the wall itself, and how it might impact the area.
He said: "Is it high enough? It might help for a few years. Probably not so good for anyone who wants to park a car down there and look over the sea."
Angela Tanner, who often walks the promenade, said: "It's needed doing, hasn't it? It's been going on quite a while but I suppose these things take time don't they. I think it's a positive thing."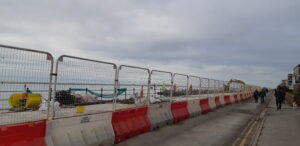 Spokeswoman for the Facebook page 'Save West Kirby Promenade' said: "It's important for local people to preserve the heritage of the local promenade. It has been improving health and wellbeing opportunities 365 days of the year for anybody who wanted or needed it for over 100 years.
"There is still a lot of poverty on the Wirral – spending upwards of £13m at the same time as closing libraries and leisure centres is morally repugnant."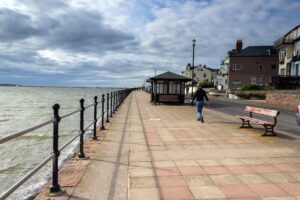 The design of the flood wall has also contributed to some of the dislike surrounding its construction.
Joan Squires, West Kirby native, said: "It doesn't look very appealing when you just walk in. It doesn't look as open as it was.
"I think once it's all up and done it should hopefully look better. Hopefully it will still attract as many visitors over the summer."
Drab as it may currently be, according to the plans outlined in the flood scheme, the promenade will return to its former glory.
The council have also issued statements as to why this wall is the best option for West Kirby.
Even Messi wouldn't beat this defence – the flood wall at West Kirby is really starting to take shape. 💪 Visiting a local business? FREE parking is available at the Watersports Centre/Sail Loft until New Year – weekdays only, 8.30am to 5.30pm with a 2 hour maximum stay. 🚗 pic.twitter.com/UPEf1IpWID

— Wirral Council (@WirralCouncil) December 6, 2022
They said: "A permanent wall is considered to be the most effective barrier against tidal energy. This combined with relatively low implementation and maintenance costs make it the best value for money option."
They also think wall is also the better alternative to individual property protections.
"The residual risks remain high because not everyone will install the temporary defences when necessary. Given the likely cost of damages that remain with this option it is not the preferred option."
As part of the project to build the West Kirby flood wall, there are other improvements being made to the area.

South Parade will be resurfaced, there will be a new cycle lane, refurbished public shelters and new streetlights. The Old Baths site will become a public event space. pic.twitter.com/566IEa5cS2

— Wirral Council (@WirralCouncil) February 2, 2023
The council also plans to restore and relocate the beloved shelters', as well proposing vibrant floor art on the old baths site at the Marine Lake.
Construction should end in early 2023.