The sky's the limit for the Clatterbridge Cancer Charity's next fundraising campaign.
After the success of Liverpool's Glow Green Walk on Friday the charity is setting its sights high for its next big event – a skydiving challenge.
The first "Skydive Sunday" is set to take place on March 19 2023.
The turn-out for this year's Glow Green Walk on Friday, was the biggest yet, with £140,000 raised and a 1,000-person turn out.
This is compared to the £120,000 and a turnout of approximately 650 people last year.
Becci Bunting, Staff Nurse at The Clatterbridge Liverpool, attended the Glow Green Walk in honour or her late friend Emma Crosgrove.
Emma passed away from osteosarcoma at 19 and inspired Becci to become a nurse at Clatterbridge.
Becci said: "Tonight was so special, emotional and overwhelming but I've never felt such a community of love, light and remembrance."
She had set out to raise £20 for the cause and finished the walk with more than ten times that amount.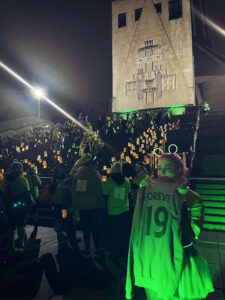 "Skydive Sunday" costs a £50 registration fee, and a minimum of £400 in fundraising to take part, all of which will go to the Clatterbridge Charity.
The three events will take place on March 19, June 11 and September 10 2023.
The Clatterbridge Charity said: "Over the years, our supporters have taken the plunge, skydiving 15,000ft and have raised over £264,000 in the process!"
https://www.clatterbridgecc.nhs.uk/charity/events/Challenge-Events/skydive-sunday
Clatterbridge cancer charity plans 'Glow Green' walk through Liverpool city centre