November 25 is a day full of heartbreak and concern, not just in Merseyside but around the world.
This date marks the one-year anniversary of the tragic death of 12-year-old Ava White, who was killed in Liverpool city centre last year.
Mayor Joanne Anderson, Merseyside Police Commissioner Emily Spurrell, members of the public and several anti-violence against women organisations gathered outside the Queen Victoria monument in Derby Square to pay tribute to those women and girls who have lost their lives as a result of the abuse.
International Day of Elimination of Violence Against Women aims to raise awareness of the reality that women are subjected to rape, domestic violence and other forms of abuse around the world.
Anti-violence campaign group Savera started the important day with a march from the steps of St Luke's bombed-out church, through the city centre and leading into the vigil organised by Liverpool Domestic Abuse Service, Amadudu and Rape and Sexual Abuse Support (RASA),  Merseyside.
Organisers said that the local women and girls who have their lives to male violence deserve to be seen, remembered and honoured.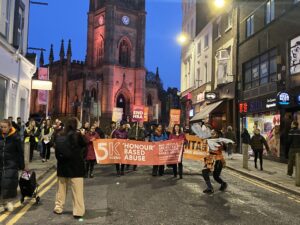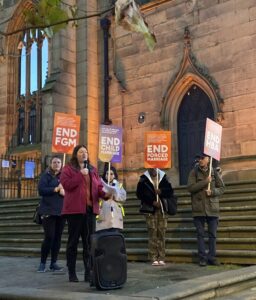 The Office for National Statistics found that in the year ending in March 2021, 177 women were victims of homicide in England and Wales. For those female victims, where a suspect had been charged, 92% of those suspects were male.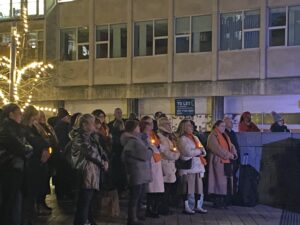 The International Day of Elimination of Violence Against Women started the 16 days of activism against gender-based violence and runs until Saturday December 10 which is Human Rights Day.
The 16-day campaign was created and led by the United Nations since 2008. It aims to prevent and eliminate violence against women and girls around the world, calling for global action to increase awareness, promote advocacy and create opportunities for discussion on challenges and solutions.
Merseyside-based Savera tackle 'honour'-based abuse (HBA) and harmful practice and have introduced a 'Orange The World' campaign aimed at ending gender-based violence.
As part of the 16-days, Savera has also started the "5K to End HBA" campaign which highlights the fact that 5,000 people each year die because of HBA and calls on people to take on a 5K challenge of their own to remember those who have died and raise awareness to help end the practice for good.
RASA have prepared many events over the 16 days including a poetry competition, a parent training class that teaches the warning signs of sexual abuse in both adults and children, and a coffee morning drop in to encourage women to speak out about male violence.
Watch Bella Cox's video report:
Featured Image: Becca Tapert on Unsplash