Protests have been voiced on the streets, at the Liverpool docks, as well as in parliament since P&O fired 800 UK workers in March, but little tangible change has been achieved. 
An issue that unites the city, let alone the country, has been hard to find in recent times. However, the shocking move by P&O Shipping did just that.
With Liverpool long associated with its docks and shipping industry, anger was felt particularly keenly right here.
BREAKING 🚨🚢: Contracts obtained by ITV have revealed P&O replacement agency staff will be paid just £3.94 an hour – to work 12-hour days, 7 days a week.

— Trades Union Congress (@The_TUC) April 27, 2022
The story began on March 17 when all ships were kept in port without prior warning. Rumours spread online regarding just what had occurred. It gradually became clear that the struggling firm was replacing all UK workers to cut costs.
P&O losses had amounted to £100 Billion last year, almost a third of the price of the entire company when Dubai conglomerate DP World bought it in 2019.  
P&O CEO Peter Hebblethewaite was forced to appear in parliament to justify his company's actions: "I think that P&O was otherwise going to close, it didn't have a future. I'm focussed on saving the business and getting the 800 seafarers new jobs," he said.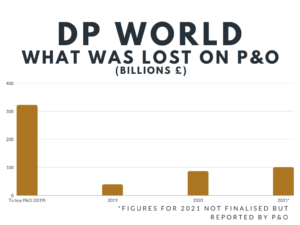 Protests
His response was not enough to persuade many in parliament.
Liverpool MP Kim Johnson told MerseyNewsLive: "This is unacceptable action from a renowned company, the government needs to take decisive action, companies shouldn't be allowed to take this action without any sanction."
Protests at the Port of Liverpool began on March 18 just one day after the firings. Both Liverpool metro mayor Steve Rotheram and Greater Manchester mayor Andy Burnham appeared outside the docks in an example of the solidarity between the two cities. 
Protests continued throughout the following weeks. As protesters blocked the entry into the port at one protest Stephen, a Unison shop steward said: "I'm here because of P&O's disgraceful decision to sack the workers, I feel solidarity with those workers and I feel all trade unions need to take up this issue."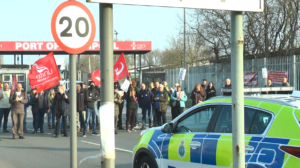 Even students took up the cause. Grace, a Liverpool University student involved in the union movement, also spoke at a protest: "I think we need immediate legislative action, the government has promised a lot of things but they've done nothing, they've sold empty words."
Government action
Liverpool Metro Mayor Steve Rotheram has indicated the controversy may produce a change in the city's attitude to major firms.
He said: "If you want some of our money currently, I think it's only right that people should use local supply chains, local labour wherever possible.
"Employ people from underrepresented groups, take on apprentices, don't use zero hours contracts, recognise unions, all of those things you'd expect.
"They are the standards we would expect from ethical employers looking to locate or relocate in the city region. If they don't, they won't be getting any of our money."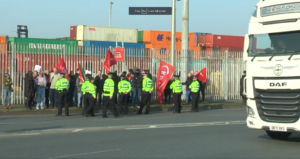 Central government action initially appeared firm. Boris Johnson spoke on the potential illegality of the firings. The Ministry for Transport appeared prepared to take legal action due to the lack of consultation with the government. The government spoke of a possible unlimited fine at the time.
However, no such action appears to have been taken more than a month on.
More recently, a spokesperson for Nautilus union said: "P&O has gotten away with it. There's no fine, there's no legal action, there's only words and hot air."
Have P&O 'got away with it' in Liverpool?
On one hand, with so much going on in the world at the moment it is difficult to see enthusiasm for further protests remaining at the same scale. Meanwhile, no legal challenge appears to be on the horizon. P&O are likely through the worst of the scandal.
However, backlash forced P&O to offer their workers redundancy packages with improved terms compared to what was being offered before. Additionally, while it may be little comfort to the workers who have lost their jobs, P&O is still in hot water financially.
Unions are calling for boycotts of the companies Liverpool-Dublin ferries. Considering the level of controversy in Liverpool boycotts may hit profits on the route heavily.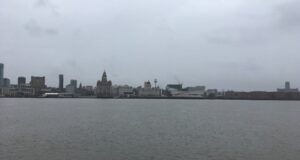 Whether lockdowns ending and significantly reduced wage bills will  be enough to save P&O remains to be seen.
Replacing British workers with cheaper non-union foreign labour has not gone as smoothly as they would wish. Initial protests, including vessel occupations, caused series short term disruption.
Shipping manager Alex Blackshaw said: "What P&O has done has had an impact on short shipping cariers [from Liverpool] to Europe. Roll on/Roll off freight, which is P&O, had become increasingly popular."
Just this Thursday a mechanical failure was thought by critics to be the result of inexperienced staff leaving a vessel adrift in the Irish Sea.
RMT general secretary Mick Lynch said: "Staffing ferries with under-trained, ill-equipped, over-worked and grossly underpaid seafarers blatantly undermines maritime safety".
P&O have said this incident will be investigated.
With the resumption of Liverpool to Dublin ferries appearing to have gone so poorly, bosses are likely to be nervous. The Dover to Calais route resume this week. How that goes may be telling for the future of the company.