Adoption in Merseyside (AiM) celebrated its 4th birthday on Sunday 3rd April.
AiM finds families for children in care as well as providing professional support throughout the process and after the adoption takes place.
Since four local authorities, Knowsley, Liverpool, Sefton and Wirral councils came together they have brought all of their adoption knowledge and experience under one roof.
To celebrate the four-year milestone, the team met together for the first time in two years and discussed the organisation's hurdles and successes.
Roberta Micci, AiM's Adoption Recruitment and Marketing Officer said: "We have found homes for over 300 children since we have merged 4 years ago.
"Our staff work extremely hard to ensure we meet the needs of our children through family finding during the adoption process and support which is provided after the adoption takes place to all of our adoptive families."
Kate and Adrian's story:
Kate and Adrian started their adoption journey in 2013 with an information session and then progressed into the next stage.
Within a couple of months, they had to put their adoption journey on pause as Kate had been diagnosed with cancer. Thankfully, Kate and Adrian overcame this huge life challenge, started the process again and became approved adopters in spring 2016.
Their first son was placed with them in their home at just 10 weeks old. Around the same time, they had just purchased a new home and had it ready for their forever family.
Kate said: "The foster-for-adopt route was perfect for us and we knew the risks we were faced with."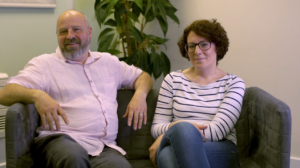 Just two years later, they received a phone call from their social worker, with the news that a sibling was due to be born very soon.
Kate and Adrian adopted a second time to keep the brothers together and welcomed a newborn baby straight from the hospital.
In 2020, they received a third phone call from their social worker whose opening words were "are you sitting down?" There was a third sibling on the way.
It was a harder decision to make but weighing everything up, they knew they had the space in their home and their hearts for all three boys who would get the chance to grow up with their brothers.
Kate said: "We love them more and more every day, yes the process can seem daunting, but the end goal is 100% worth it and we can't wait to see them grow and thrive."
How can you get involved?
AiM highlight that their future plans are to continue to find stable and loving homes for their families and hopefully increase the number of adopters who come through in order to meet their childrens' needs.
Roberta said: "If anyone is considering adopting, we would advise them to attend one of our webinars and receive an information pack via our website.
"There is never a perfect time to adopt, but as long as you have a loving and stable home we will welcome your application and would love to discuss this with you in more detail."
Visit AiM's website for more information on adoption.