A Liverpool community group is helping to restore the Caribbean Centre in Toxteth.
The centre in Pomfret Street has been known in the Toxteth community for decades as a place where families and children could gather to socialise.
However it closed due to a lack of funding and fell into disrepair.
Now members of the Liverpool Black Men's Group (LBMG) have come to an agreement with residents and the centre's owner and they will now help restore the area.
LBMG is a charitable organisation which helps preserve black heritage in the city and support the community.
In the past, members have cleaned memorials of famous black people from Liverpool and raised money for scholarships to benefit local children. They also host social events at the Granby Centre in Toxteth.
The group's first job has been the basketball court next to the Caribbean Centre. The court has been repainted and rubbish in the area has been removed.
The trees surrounding the area have also been pruned.
Ben Fleming one of the members of the LBMG describes what it means to him to help clean up the community: "If I'm being honest its only since I got involved with Liverpool Black Men's Group that I have had the opportunity to connect with these places in a meaningful way".
"Doing the clean up allowed me to become part of the History of L8 and that gave me a real sense of purpose"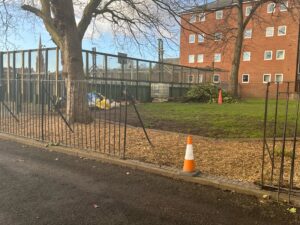 Follow LGMG on Instagram: https://www.instagram.com/liverpoolblackmensgroup/