An abandoned hospital in Liverpool, known as one of the most haunting locations in the UK, is bringing ghost hunters to the city.
The Newsham Park Hospital ghost hunt will allow people to take part in experiments such as table tipping and wait vigils throughout the night.
The derelict location was once an orphanage, a hospital and in later life a nursing home.
Newsham Park Hospital was built in 1870 and designed by Alfred Waterhouse, who also designed the Manchester Town Hall and the Natural History Museum in London.
The event begins at 9pm on Saturday and continues right through the night until 3am so everyone can get the best haunted experience!
A young girl dressed in a long white night gown and an array of white spirit lights have previously been rumoured to be seen at the location.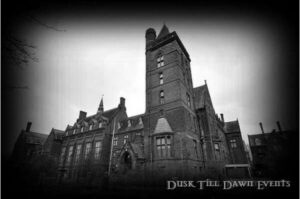 Jessica Gladwin, owner of Dusk Till Dawn events said: "We know that you will not want to miss the opportunity to investigate this amazing horror movie style location.
"We bring you this extreme and terrifying building that is sure to tick all the boxes for avid ghost hunters and anyone looking for the ultimate fear factor experience."
There are 15 planned Liverpool ghost hunts taking place at the Newsham location across the year for anyone over the age of 18.