The Scouse Solidarity Sisters launched 'The Scouse Christmas Stocking' appeal to keep the festive spirit alive for families in 2020 and distributed over 100 stockings to organisations across Liverpool.
This year, they hope to give out many more for one of the most magical days of the year to bring the excitement and joy to children that Christmas morning brings.
Natalie Denny, a Liverpool activist and writer, wanted to make sure no child in the city wakes up without a stocking on Christmas morning.
Natalie is one of five women in The Scouse Solidarity Sisters, who run a foodbank drive every year to keep families fed during the holiday period.
She told Merseynewslive: "When we started to plan our foodbank drive, I didn't want us to forget the importance of kids having some magic, especially around Christmas.
"What tends to happen is we focus on 'we need to feed kids' which obviously we do, but for me it should be about more than that.
"It's about not just having what we need to live but having what makes life worth living as well."
Natalie is chair of The Period Project Merseyside, a voluntary-led initiative providing women and people who have periods with menstrual items.
She is also a co-founder of The Goddess Projects, an organisation with the mission to empower, inspire and assist Black women and women of colour to develop and achieve in their communities.
"It's about not just having what we need to live but having what makes life worth living as well"
"I am a Programme Manager for Anthony Walker Foundation, and I run my own business called Skywriters which is a creative writing initiative to help people with their self-esteem and confidence who can use writing as a tool to help them.
"I am an activist involved in lots of different things and I just wanted to do something for the kids to have magic for Christmas so they can have fun."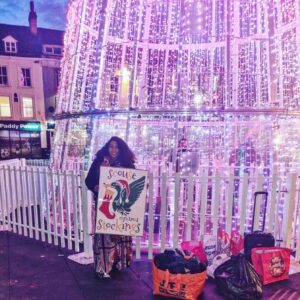 The idea of Christmas stockings was a personal touch from Natalie who makes stockings for her family every year.
"I have made stockings for the last five years for my family. I was going around buying presents and I thought, I'm spending all this money and stressing myself out. Instead, why don't I do something with my family that we can remember?
"I don't buy my family presents; we fill up stockings I make with everyone's names on, and we have an early Christmas dinner on December 11.
"We have such a lovely day together. Why couldn't I do this for other people too?"
Last year the Scouse Solidarity Sisters distributed more than 100 stockings to different organisations all over the city from Bootle to Toxteth.
"Everything is sat in my living room. We need to get it all packed so I can have my living room back! I've just got piles of boxes, it's like a warehouse in here! We're hoping to distribute the same amount of stockings this year, if not more."
Kate Denny, a mum of two from Bootle told MNL: "What they are doing is wonderful, I have always struggled at Christmas time especially to make my children have a day just like every other children across the country. The Scouse Solidarity Sisters have helped us and thousands of other people have magic and not have to worry."
The Scouse Solidarity Sisters organised a stocking drop off at Williamson Square last Thursday.
"So many people came down for the event. It's so lovely to see the people of Liverpool coming together! It's simple and doesn't have to be that expensive.
"If people didn't have the opportunity to do the full stocking, then people can just come along with little bits. You can contribute even if it's a little bath bomb or body wash, it can all go in!"
"We need to get it all packed so I can have my living room back!"
Natalie left the event with suitcases and backpacks full of stocking items.
"Lots of people popped over, families, random people in the street who saw us and said, 'I'll run to Poundland and grab a few bits.'
"It's one of the reasons why we do a public event because it attracts people who haven't heard about us.
"It's lovely that people come out and support because it can be a really hard time of the year especially after the last 18 months we've had.
"Many people have been made redundant or have less income with wages slashed, we're appreciative of everything."
An organisation called 'Kit it Out' has provided more than 100 football kits to put in the stockings for the second year in a row.
"We call it solidarity not charity because we as communities should be supporting each other. It always comes down to communities to fill the gaps when organisations or governments leave.
"For us, it's about supporting others in a tight spot because that could be any of us in a years' time.
"Presents aren't everything but it makes it just a little bit better for children"
"We get direct emails from the organisations and every now and then we have a chat from someone in the community we helped and they're so grateful.
"It doesn't seem like a big deal to a lot of people but if parents can wake up and their kids have a little bit to open on Christmas morning, they can have such a nice day.
"Presents aren't everything but it makes it just a little bit better for children. If parents or carers want to take things out of the stockings and wrap it themselves, they can."
If anyone wants to donate, message the Scouse Solidarity Sisters on Facebook and the Amazon Wishlist will remain open for the rest of the week as they welcome all sorts of gift ideas for young children to 18 year olds.
Natalie added: "We're doing the packing next week.
"The Wishlist will be up online still but if anyone has any physical donations we will try and get it. We don't want to miss out on anything so if people have a desire to donate just message us!"