A travelling carol-singing trio are bringing a musical doorstep experience to people and organisations who are in challenging circumstances.
The trio is a group of professional artists who have come together during exceptional times to promote joy and connection to isolated, vulnerable members of Liverpool's communities.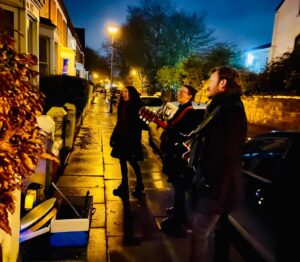 In December 2020, three Liverpool-based musicians came together to perform with organisations and on people's doorsteps during the festive season.
The aim was to bring a 'Musical Mood Boost' to people experiencing loneliness and isolation during the turbulent year of 2020.
After such success, the group decided to fundraise again this year to fund their tour around Liverpool.
Rachel Waite, the organiser of 'Travelling Carol Singing Trio' told Merseynewslive:
" It seems evident that the world isn't going to go back to 'normal' any time soon."
"So, we anticipate still maintaining a level of safety, vigilance, and most of all heartfelt connection for those who still remain isolated during Covid times."
The 38-year-old from Liverpool added: "We'll be visiting a number of organisations once more over a two-week period between the 12th and 23rd December including care homes, drug rehabilitation centres and community centres.
"We're building on connections with organisations that we established through our carol-singing work last year.
"We've also been approached by many community organisations that heard about the work we do and felt like it would really benefit the people that they work to support."
The trio is made up of members Rachel Waite, Kathy Halter and Gaz Elliott.
This year, Gaz is alternating performances with music therapist Jennifer Capstick as the joint third member.
The group has so far raised over £1500.
Donations have enabled them to increase the number of people they can reach.
Their aim is to reach as many people as they can between 9 and 23 December.
Holistic Harmonies is a mission driven Community Interest Company.
Using music and song to promote positive wellbeing and togetherness for the family and wider community across all lifespans.
Talking about Holistic Harmonies Rachel said: "The work I do through Holistic Harmonies is centred around using music to create and develop connections within communities.
The idea developed initially in the Autumn of 2020.
"With Christmas approaching, there was the dawning realisation that lockdown restrictions would still be in place at Christmas.
"The sad reality was that there would be no public carol services, no Christmas concerts, parties or light switch-ons.
"I had to think outside the box to use music to aid wellbeing and bring some festive cheer.
"With a 'musical mood boost' to those who needed it the most."
She added: "The collective mood is still that of uncertainty and we'd like to bring connection to those most isolated.
"Singing has proven to be a successful mood booster and conduit to feelings of belonging and togetherness; supporting positive mental health."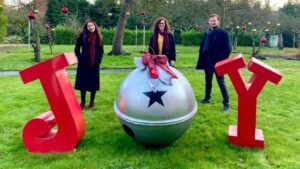 Rachel explained how the carol singing has helped the community.
"The aim for this project was to bring live music to people's doorsteps at a time when isolation could most painfully be felt.
"It helps people feel like they belong to each other. And our experience last Christmas showed this to be true.
"We had a great deal of positive feedback from so many people thanking us for bringing them such joy.
To help donate to the travelling carol singing trio click the link: https://www.avivacommunityfund.co.uk/the-travelling-carol-singing-trio