Liverpool City Council is urging hospitality venues to ensure they have applied for a pavement licence ahead of the easing of restrictions next month.
The sector is due to reopen on Monday April 12, but only pubs and restaurants with a pavement licence will be allowed to serve outside.
The government set out the roadmap out of lockdown which included allowing hospitality to serve food and drink outside next month.
The 10pm curfew will no longer apply and businesses will not have to serve a "substantial meal" to customers buying alcohol.
However, Liverpool City Council say businesses planning to welcome customers with outdoor seating need to obtain a licence.
Businesses need to apply now to receive their licence by April 12.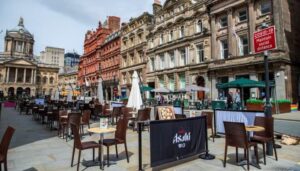 Director of Liverpool Arts Bar on Hope Street, Alex Medlicott, said the licence is not usually easy to obtain.
Alex said: "It was really hard to get a licence, before Covid it was really tough."
However, due to the pandemic, Alex said the council have made it much easier and the Arts Bar obtained a pavement licence after the first lockdown.
The City Council issued more than 160 licences to venues across the city after the first lockdown last year.
Those licences will remain valid until September 30 2021 and businesses do not need to reapply.
Director and Owner of Red & Blue restaurants limited, Paddy Smith, said the council's support has been much needed.
He said: "It's probably the difference between opening and not opening actually."
But for those yet to secure a licence, time is running out for the April reopening.
Liverpool City Council's Cabinet Member for Highways, Councillor Sharon Connor, said: "Quite simply, pavement licences are essential.
"It takes time for our team to process the applications which is why we are asking businesses to apply now.
"This sector plays a hugely important role in our economy and we want to do everything we can to help businesses reopen their doors."
Businesses must meet a number of conditions and ensure Covid-safe measures are in place before receiving permission.
Enforcement action could be taken against businesses who place furniture outside without a pavement licence.
For further information and to apply for a pavement, licence, click here.