Calls are being made for greater inclusion of regional accents on the BBC following the Eurovision Handover Ceremony that took place in Liverpool earlier this month.
The lack of a Scouse voice on a programme filmed in Liverpool led to criticism of the broadcaster.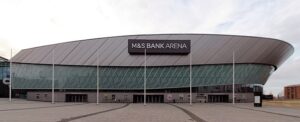 BBC Radio Merseyside presenter, former Liverpool John Moores University alumni and proud Scouser Ngugan Adamu was chosen to be a member of the BBC's Eurovision broadcast team, being the host of the Official Eurovision podcast.
Ngugan is the only Scouse representative but hopes her inclusion leads to more representation in the mainstream media for Northerners generally.
She said: "I would not want there to be a Scouse presenter just because it's Liverpool.
"I would love whatever country won, even if outside the UK, that they would use a Scouse presenter rather than your typical Southern accent.
"Hopefully this opens up the conversation in order to invite more Northerners on flagship programmes".
However, Ngugan feels a shift in attitude regarding Northern voices in nationwide media is not the only thing that needs changing.
What about the UK's attitude to Eurovision as a whole?  In the last 20 odd years or so it was less spectacle and more sceptical with 2003 being a low especially for the city of Liverpool as homegrown act Gemini delivered what is believed in many opinions to be the worst performance in the competition's history.
However The United Kingdom holds the record for most second place finishes including Sam Ryder last year – so, as a nation, are we ready to take the competition more seriously?
Ngugan said: "He's made it cool again in the UK. I think for a long time we haven't taken it seriously but yet we still get upset when we get 'nul points'.
"He showed if you are a big Eurovision fan and the country is behind and loves you, the rest of Europe would see we are serious. That's what happened last year".
Watch MNL's video report here:
Featured image (c) MerseyNewsLive