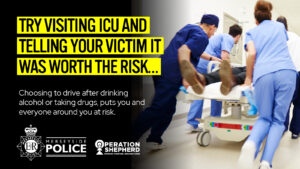 Merseyside Police have recently begun a new operation to tackle drivers who drink or take drugs while at the wheel during the festive season.
The operation, dubbed 'Op Limit', will see officers paying close attention to drivers in Merseyside during the early mornings and evening to target those driving under the influence.
The choice to target morning drivers is as a result of drugs and alcohol remaining within people's systems overnight, with many remaining unaware.
It will involve officers from the Matrix Roads Policing Unit and their colleagues stepping up patrols throughout Merseyside during the month-long campaign, which runs up until January 2.
It also coincides with another campaign, Operation Shepherd, which is an annual campaign to reduce crime and keep communities safe during the holidays.
If you're drinking at night, please, think about the morning after
Inspector Stuart McIver from the Matrix Roads Policing Unit said: "It's always particularly sad when somebody who would never have dreamed of having a drink and then getting in their car and driving is either arrested or injures somebody the morning after, because they're actually still over the limit.
"We've had incidents of parents who have inadvertently drunk-driven their children to school because they didn't realise the alcohol would stay in their system that long.
"We don't want any of that this Christmas. If you're drinking at night, please, think about the morning after.
"The way alcohol affects you depends on: your weight, age, sex and metabolism, the type and amount of alcohol you're drinking, what you've eaten recently and your stress levels at the time.
"Our officers tackle drink and drug driving every day of the year, but Op Limit serves to highlight the dangers and consequences of driving under the influence of alcohol or drugs, and reminds the public that this criminal behaviour is deeply irresponsible and dangerous."
As part of the operation, the Roads Policing Unit conducted a drink drive operation 29 November – when the highly anticipated World Cup kick off between England and Wales took place. On this day, fifty vehicles were stopped, and it's believed approximately a third of these drivers were under the influence.
If you have information about anyone who is driving whilst under the influence of alcohol or drugs, please contact @MerPolCC, 101 or Crimestoppers anonymously on 0800 555 111.
Featured image (c) Merseyside Police