A local grassroots football club devastated by a fire which destroyed most of their equipment have since been of the receiving end of 'immense' support from the local community, who have raised over £25,000. 
The fire, which Merseyside Fire & Rescue Service believe was started deliberately, ripped through the club's hut on Camp Hill in Woolton last Monday. 
Club manager Colin Windrow said: "From sorrow on Monday when I saw the shed had been burnt down, all the equipment – the balls, the goals and even the exchange of boots we do for children who can't afford their own boots had all melted.  
"Compare that to now and it's a story of fantastic community spirit."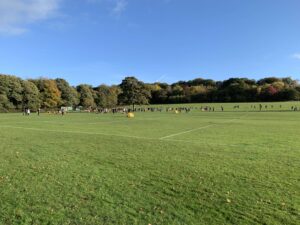 MSB Woolton FC have over 100 teams, stretching from under sevens all the way to their senior men's and women's first teams. 
It is at the heart of the community, with thousands of people coming down every Saturday and Sunday, including over 250 volunteers. 
Colin explained just how important this local spirit is to the club: "It means more than money. I have had everything from phone calls from big organisations asking how to help to someone's nan, who has donated some of her pension to the club. 
"It just tells you everything you need to know about MSB Woolton, other surrounding clubs and the grassroots community in general. There is no better feeling than having kids play football." 
Similar anti-social incidents have been occurring in the Woolton area recently, including young people gathering in large groups and intimidating people, as well as setting off fireworks. 
A dispersal order was put in place by police in the local area from Friday, October 7 until 4am on Monday, October 10. 
Colin says the club now need to look at ways to stop a similar incident happening again in the future. 
Video package by Ollie Nolan-Davies
Click here if you would like to donate to the GoFundMe page which has been set up to help support the club. 
Featured image © Ollie Nolan-Davies