The number of available bus services in the North-West has declined by 38% over the last 10 years. A 10% larger decline than elsewhere in England.
The largest drop occurred during the pandemic when more than half of the decline occurred.
In the wider context of climate breakdown and the fuel crisis, the issue is even more acute.

A new grant for North-West bus services
On Tuesday, Liverpool was announced as a recipient of part of a £1.08bn grant. The government hopes this will improve bus service provision in the North-West.
Of the new investment, Mr Shapps said: "The investment we're making to ramp up the bus revolution will drive down fares at a time when people's finances are tight and help connect communities across England."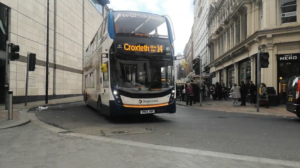 Norfolk, Cornwall and Manchester have also received portions of the grant. Andy Burnham described the grant as a vote of confidence in his and Mr Rotheram's nationalisation plans.
Many feel that the government has still not done enough to encourage public transport use. Paul Tuohy, Chief Executive of Campaign for Better Transport, said: "The Government's failure to provide for bus users makes a mockery of its levelling up and carbon reduction ambitions."
According to the RAC Foundation, between March 2012 and March 2022 bus and coach fares have risen by 57.7%. Over the same period, petrol prices went up by 19%.

Both Liverpool City Region mayor Steve Rotheram and Andy Burnham, mayor of Greater Manchester have called for a London-style franchise system. This would result in the return of regulated bus routes.
The We Own It campaign said: "With Manchester setting the pace, now is the time for the leaders of other regions to put their foot on the accelerator and drive forward better buses too."
🚌 "While a hierarchy might exist within the walls of the Palace of Westminster, on the street, people all stand in the same line as equals waiting for a bus."

✍️ Why our region deserves a London-style transport system, by me for @tribunemagazine.https://t.co/oxwmrqeV2m

— Steve Rotheram (@MetroMayorSteve) March 29, 2022