Women in Liverpool are set to boycott nightclubs and other venues after a worrying rise in cases of spiking in the UK.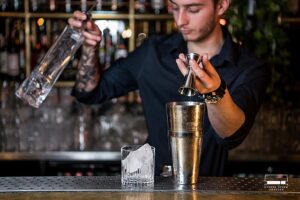 The "Girls Night In" Campaign has been planned nationwide by different co-ordinators for each city, and the Liverpool version of the boycott is set to take place tonight.  
Police confirmed recently that there had been a rise in reports about people having their drinks spiked at nightclubs. Women are also feeling empowered to report their experiences on social media. Besides the increase in reports of drink spiking, several people have also begun to warn women about being physically injected. 

A woman claims she was injected outside Fleet Street's Baa Bar last week. The woman told the Liverpool Echo that she found a red mark on her back a day after drinking. Following the ordeal, the woman had to be tested at the Royal Liverpool Hospital for HIV.  
Since September, Merseyside Police have received five reports from people who believed they were injected whilst on a night out.
The boycott aims to shine a light on the growing issue of predatory behaviour at venues. The groups hope to start a conversation so that more is done to prevent further crimes.
Various "Girls Night In" groups suggest that such measures could include anti-spiking devices at bars and clubs as well as welfare officers to help women feel safer.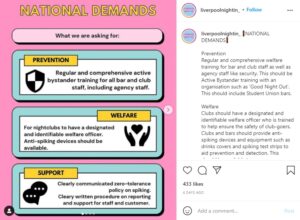 Policing Superintendent Diane Pownall said she understood why citizens may be alarmed. She confirmed that investigations were taking place about injections. Pownall was also keen to reassure locals, saying:
"In April we launched, 'Operation Empower,' where officers are tasked with identifying perpetrators "
Marie Wilkinson, an advocate for tough measures in clubs, said there were things the community could do to help.
[AUDIO: Listen here]
Pressure is mounting on government and clubs alike to take action to help prevent women feeling unsafe at clubs. An online petition asking for searches of all guests upon entry to clubs has received over 150,000 signatures and will be considered for debate in Parliament. Bars across the country are starting to change their policies, though it is thought that more needs to be done.
Baa Bar have increased their body and bag searches, saying that they have a duty of care to their guests. "Girls Night In" groups around the country will hope this is only the start of much needed change.