A dog with one eye who once struggled to find a home is now a fully-qualified therapy dog bringing comfort to hospital and hospice patients in Southport.
At just five weeks old, Border Collie Jack had to have his eye removed after a litter accident. The pup was advertised on Facebook as 'needing a good home' by his breeder, but nobody wanted him as he only had one eye.
Judith Hulse, who runs Formby Petcare Services, couldn't say no to him and adopted Jack, now known as One eyed Jack Daniels, in August 2013 when he was ten weeks old.
Judith described Jack as always being 'very chilled,' which is quite unusual for a Border Collie and spotted his potential to be  therapy dog. He started the role in 2018 and has been brightening hospital patients' days ever since.
Judith said: ''He likes walks to the beach everyday but will happily sleep for the rest of the day.
She first started taking Jack into the nursing home where her mum was living when he was four years old.
She said: ''I noticed how great he was with the residents and how they looked forward to seeing him every Sunday when I was visiting my mum.
''The staff said he literally brought some of the residents to life.
''I started researching therapy dogs and thought his temperament would be perfect.''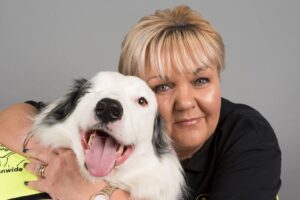 In 2019, Jack and his owner Judith, started visiting Southport Hospital as well as the Hospice and made visits to the Spinal Injuries Unit, Intensive Care Unit and other wards.
Therapy dogs come in all shapes and sizes and the dogs have to enjoy being stroked and cuddled by just about anyone.
Judith added: ''The dog has a very thorough temperament assessment and has to be more or less bombproof.
''Once they pass the assessment they become fully registered as a working therapy dog.''
Jack is registered with Therapy Dogs Nationwide, which is a charity based in Wirral.
Judith explained how therapy dogs visit just about anywhere; the more popular places being care homes, hospitals, schools, care centres and even prisons.
This is all done on a voluntary basis, with the owner of the dog staying with them at all times.
As well as regularly visiting Southport Hospital and Hospice before lockdown, Judith and Jack also attended events with 'Team Liverpool.'
One of the last visits the pair did prior to lockdown was to Edge Hill University for their mental health awareness event.
Judith said: ''We had a lot of planned student events for spring 2020 but these were all cancelled due to the pandemic.
''Luckily, we did manage to get to Crufts just before the first lockdown, where Therapy Dogs Nationwide have a stand every year.
''Since then, we have not been allowed to do any visits but I'm hopeful that we can get under way again soon!''
After being 'friends' with several pet pages on Facebook, Judith, 51, created Jack's own page when he was about ten months old.
''I quickly realised people liked his mix of positive thinking and funny banter and that people took to heart things that he said. Lots of people say it brightens their day to see his posts and they look forward to them.''
Judith has posted many adventures from Jack's holidays in the Lakes, Scotland and Wales, and also posts her two other dogs, Tia Maria and Guinness.
She added: ''He has also made many genuine friends all over the world, some of whom I have met. An American family were visiting London and drove up here just to meet him!
''He gets tons of mail, gifts, and pocket money too – it costs me a fortune at Christmas designing his cards and posting them all over the world!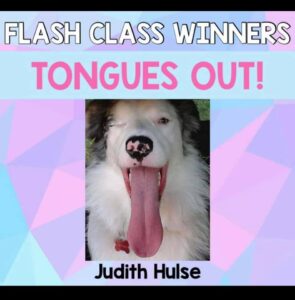 ''I have also used his Facebook page for fundraising, we took part in 'Star Trek' which is a night-time sponsored walk for Queenscourt Hospice.''
Jack's fame spread even further when he appeared on BBC'S Pooch Perfect recently and since then he has accumulated another 2,000 followers.
Most importantly, he has also won a recent trophy for having an extra-long tongue!
Judith said: ''If I had to say what Jack's Facebook page means to me, I could sum it up in two words: happy place.
''I only wish I had time to do more posts and comment on everything, but that's a full-time job!''
If you want to find out more about One Eyed Jack or follow his adventures, you can visit his Facebook page here.