Liverpool students were left furious as they discovered a homeless man had entered their building via a broken door.
The incident took place after an automatic door failed to close at a student accommodation located on Stanley Street.
It is not clear when he initially entered the building but his presence was noted by a resident at 7:40 pm.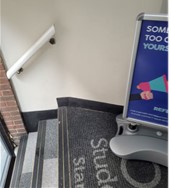 The resident quickly sought help from other residents and building management in the group chat they share.
Building managers responded to the reports the next morning.
Residents were promised 24-hour security by the company when they initially signed their contracts.
However, they believe that budget cuts have meant that it has not been possible.
The man was later escorted out by a resident at around 8:30 pm.
A former Stanley Court employee said: "As long as the door stays open drug addicts and random people will come and sit and sleep here."
Residents claim that this has been allowed to happen due to new cuts and lack of funding for security and repairs.
A student nurse who lives on the first floor said she has had problems before with unwanted visitors.
"I'm starting to worry for my safety. Last time, I had someone trying to force himself into my flat".
A few weeks back it was discovered that another intruder had unknowingly entered the building and had been hiding in a corner for days until he was spotted on CCTV and escorted out.
This man was also seen on camera trying to forcefully enter a resident's flat.
When asked to comment on the situation the accommodation manager said: "We would like to apologise that this incident occurred but please know that we are doing all we can to rectify it as quickly as possible.
"As the door was physically malfunctioning of its own accord, it is not something we could have foreseen happening.
"As soon as we were made aware of the problem, we acted as quickly as possible to put a fix in place.
"Rest assured, maintenance are not only fixing the problem but improving the situation to ensure this doesn't happen again."
For more information on how to help if you see someone, you suspect to be homeless visit the Liverpool City Council website here or simply call 0300 123 2041.
Featured Image courtesy of Sera Williams.