Widnes Wild's Michael Joseph Clancy believes Sunday's win over league leaders Bradford Bulldogs is a sign of the progress his team has made this season.
The Wild gained their third league win of the season as they brushed aside the South-Yorkshire club with an impressive performance at Planet Ice.
"As a team it's starting to come together," MJ Clancy said. "The refs were against us, everything was going against us but we still managed to pull together as a team."
"The team's starting to get used to being around each other. As the team grows, performances like this start to kick in and that's when we start to get these points."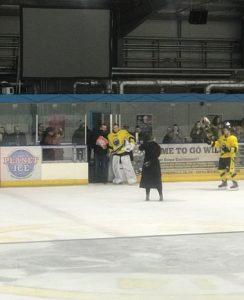 Widnes eventually ran out 5-2 winners, with MJ Clancy bagging the home sides third of the evening, but the Wild number 33 believes his team could have scored more on the night.
"It just didn't go our way, few unlucky bounces here and there but I think we keep going and ground it out and that's the win."
After a turbulent start to the season off and on the ice, alongside cup commitments, Widnes' league campaign has struggled to take-off.
But with games against Telford Tigers 2 and Dragons coming up in the EIHA N2L, MJ Clancy sees Widnes beginning to climb the table as they play catch-up on their rivals.
"Hopefully [we'll] get another couple of wins and get ourselves back up the table were we belong and carry on."
"I think if you look at the start of the year as a team we weren't a collective but you know when you lose a few games everyone starts to buy in everyone starts to work hard."
"You come to games like this and that's when we start to really show we can do stuff."
Wild head coach Mike Clancy was equally jubilant with Sunday's victory over one of the best teams in the division, and cited his squad's work in training as a reason for their success.
"You can't be complacent against a big side like Bradford, we knew they'd come strong and hard," he said.
"But again game plans and all the other parts we put into training sessions, it worked."
Widnes' victory becomes all the more impressive when it is considered they were beaten 5-1 by Bradford at the start of November.
"I think like we said last time we've had disruptions – training sessions for nearly a month without a coach. We went there and we were cold, and we were beaten by a really good team."
"We've put another month into training and we've started to turn things around."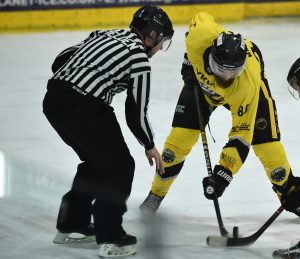 This season, Widnes have been heavily involved in cup competition, often playing teams from superior divisions meaning they have played up to seven games less than some of their rivals in the league.
Despite this, Mike Clancy remains adamant his side have benefitted from playing in knockout competition against bigger teams.
"It's really early days, although everyone says the cup is a distraction, it wasn't – it was a learning piece we really needed to do for next year."
"We really needed to test the water properly at what we need to do at the next level, or to compete properly at the next level…It's served its purpose for us."
However, with the focus now back on the league and Widnes likely to be eliminated from the Midland Cup, he is hoping his team can start to pick some points and return to a more familiar position at the summit of the table.
"I think now, we're six, seven games, we're starting to climb the table, we just beat top of the league and I think we'll continue that."
"We aim to go through to the Christmas break with a full victory roster if you like."
"You know, never say never, we could go out there and get four points from the last two cup games and qualify."
Check out interviews with MJ Clancy, Ryan Kemp and Mike Clancy below.